In January of AD 2001, our beloved sunburnt country and blessed great nation celebrated a centenary of Federation. The States, "humbly relying on the blessing of Almighty God", 100 years ago joined together to form the indissoluble Commonwealth of AUSTRALIA.
And what a century of life, growth and development it has been!
Most but not all Aussies share that sense of achievement. Down under there are still mixed feelings about and many reactions to, the reason for and the season of, this celebration. To some, the centenary represents inspiration and gain, whilst to others it reflects injustice and pain. The past 100 years, to some, is marked with particular satisfaction, a triumph indeed, whilst to others, it is marred with personal disappointment, almost a tragedy.
Many, however, are concerned that this unique occasion of the century is at risk of losing its potential, and of becoming another obstacle and a set back. They warn that this will cause our nation great harm, as we will lag behind and be held back by the unmerciful and unforgiving chains of the past. Instead, they would strongly urge us to see it as a stepping-stone to our future and an opportunity to move forward with confidence and hope.

Meanwhile, what is making the friendly rounds, and receiving the favourable reviews, is not the truth and the meaning of Federation, but the term and the message of Reconciliation.
I . Man's desire - the message of reconciliation as it is now.
The level of commitment
The faithful promotion by its supporters, fuelled with the pressure of the media, and facilitated by the politicians on both sides of the House, made the message of reconciliation front page, prime time and top story.
However, the level of commitment amongst the public still varies a great deal:
From a style to a substance;
From a concept to a conviction;
From a toy to play with to a team to participate in;
From a meaningless word on lips to a meaningful way of life.
The love for the cause
To some the message of reconciliation is just a means to an end. The obvious one, politically speaking, is to get more votes, whether it be carrying babies in shopping centres or banners in the streets.
To others, it is an end in itself, a fulfilment of a lifelong pursuit and a long held dream, even a legacy to leave behind, without its being stolen from the next generation.
The left out component
But the puzzle of reconciliation is incomplete and the picture is incomprehensible. Someone is evidently missing from the current equation and something is seriously wrong with the suggested formula.
Question - What might that be?
Clue -Well, if we go back to the beginning, we'll discover the clue is in the preamble of our Nation 's constitution: "humbly relying on the blessing of Almighty God ".

You see, in the midst of all the passion and pride, "Almighty God and His Blessing" was left out, either accidentally or deliberately. And as long as God is sincerely left out, or strategically and systemically put out, the message of Reconciliation - as it is now, would falter, fall and ultimately fail. That would be such a tragedy for our nation, because we can and must experience the blessed meaning of reconciliation.
This is possible, according to God's word, only if and when, we, her people, receive the Biblical ministry of reconciliation, the one of HIS design.

II . God's design - the ministry of reconciliation as it ought to be.
"….God, who hath reconciled us to himself by Jesus Christ, and hath given to us the ministry of reconciliation;." (2 Corinthians 5:18)

The Corinthian community, whom Apostle Paul was writing to under Divine inspiration, was a divided bunch, very similar to our fractured and fragmented society today.
He lays out the order and objective, and the priority and purpose of the ministry of reconciliation according to God's blueprint and big picture. In effect The Eternal God, through His faithful servant Paul, is instructing the Corinthian minds of yesterday, the concerned men & women of today and the children of tomorrow to:
I. Be Reconciled to Himself- ie. trust HIS (God's) saving grace, then,
II. Be Responsible yourself -ie. take your service to the community seriously.
Watch also how the Holy Spirit authorized this apostle of grace, to arrange the order of the above verse: "GOD…. US…. By JESUS CHRIST"


GOD -The Sovereign & Holy
The Bible teaches very clearly that there can never be a loving nor a lasting reconciliation with one other, until we are first reconciled to God, our creator. Everything hinges specifically and strictly on us -the sinful lot, finite subjects and loved creatures, being reconciled to Him - The Holy Lord, Infinite Sovereign and Loving Creator.
We recognize this can only be possible, because of His grace and His gift that is free and for all. (See Romans15: 15; 6:23; 3:24; 5:18)


US -The Sinful & Hopeless
According to God's Holy Word, man's real problem is not the colour of his outward skin; rather it is his condition because of the inward sin. This applies to ALL people without any exemption. DEATH is the penalty without any exception. HELL or HIS blood is the payment without any question.
(See Romans 3:23,10; 6:23; 3:25; 2 Peter 2:4)


By JESUS CHRIST - The Saviour & Healer
"For he is our peace, who hath made both one, and hath broken down the middle wall of partition between us;….. And that he might reconcile both unto God in one body by the cross, having slain the enmity thereby:" (Ephesians 2:14,16).
All of us, Gentile Jew Black White, regardless of colour, creed or culture, must repent of our sins towards God, and receive His free gift of eternal salvation.
Once we are reconciled to HIM by Jesus Christ, then we are able, and must be willing, to relate God's forgiveness and genuine friendship to those who are seeking sincerely and searching seriously after eternal truth and everlasting righteousness.
We can learn a wonderful lesson from Dennis Roland of New York, who in October of 1978, on the 33rd anniversary of the completion of the bridge of the River Kwai, walked together arm in arm with his former war time prison guard, Ryuji. Said Roland: "I bear no bitterness (toward the Japanese), but I have many memories".

IN CLOSING
Are you reconciled to GOD, your creator? Have you fully turned away from sin and self, and by faith trusted HIS grace and mercy and not YOUR good works and merits?
If not, then let me encourage you to call upon The Lord Jesus Christ with a repentant heart, and receive HIM as your personal Saviour, NOW! You will need to say (and be) more than sorry. Please and thank you, are also in order.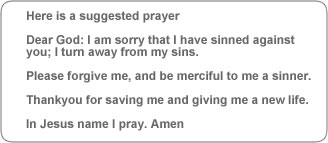 The Bible says: "Therefore if any man be in Christ, he is a new creature: old things are passed away; behold, all things are become new."
(2 Corinthians 5:17)
A thinking author puts the truth above, this way:
Greece said: be wise -know thyself;
Rome said: be strong -discipline thyself;
Judaism said: be holy -conform thyself;
Education says: be resourceful -expand thyself;
Psychology says: be confident -fulfill thyself;
Pride says: be superior -promote thyself;
Materialism says: be acquisitive -please thyself;
Diplomacy says: be reasonable -control thyself;
Communism says: be collective -secure thyself;
Humanism says: be capable -trust thyself;
Philanthropy says; be unselfish -give thyself;

Each of the above possesses a fraction of eternal truth, but only the Biblically based Christian faith contains all of the characteristics, plus one more vital matter…
God said before, says now & will always say: be in Christ - rest thyself!
With the Love of Christ
Rev.Peter Rahme
Pastor- Inner West Baptist Church

Peter Rahme AD 2001 . 40 Cardigan Rd Greenacre NSW 2190 Australia. Tel (+61 2) 9742 5716 Fax (+61 2) 9742 5715 Email: pastor@innerwestbaptist.org.au
.Published by "KNOW GROW & SHOW"- The Literature Ministry of Inner West Baptist Church Website: www.innerwestbaptist.org.au Photos: Ramon Williams-Worldwide photos Ltd