AN ADVANCED PRIVATE SCREENING of
...
SHADOW GOVERNMENT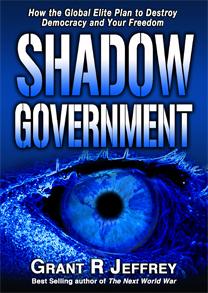 John Wilson wakes up, gets ready for his day and heads to work. He has no idea that he's being watched, tracked and studied. Is he a threat to national security? Is he a terrorist or a criminal? No, he's an ordinary American citizen.
Like everyone else, John's rights and freedoms have been systematically destroyed - all in the name of security and convenience.
is it about peace and unity? Or is it about ultimate global power?
What if there were hidden forces with no ties to democracy or constitutional rights in power? What if new laws, media propaganda and Secret Societies labeled John a danger to society? And what if all this set the stage for a Biblically prophesied global government run by the Antichrist?
Leading researchers, authors and minds like Grant Jeffrey, Dr. Katherine Albrecht, Edward G. Griffin, Daniel Estulin, Gary Kah, Chuck Missler, Joan Veon, Brad O'Leary and many others take you through the incredible and hidden world of Surveillance, Rights and Freedoms, Global Government and Bible Prophecy.
Where - INNER WEST BAPTIST CHURCH
Corner Hornsey & Exeter Rds
HOMEBUSH WEST
Host - Pastor Peter Rahme
When - Friday April 16,
7 PM for 7.15 start
Free Admission...Limited Seats...Booking Essential... Supper Provided...

For more information/ interviews/public screening enquiries
Please contact Pastor Peter Rahme on 0418 249 989
The DVD due to be released later in Australia by Condios Ent.
will be available for sale on the night .
If you can't make it, you can PRE ORDER a copy
@ $35 posted anywhere in Australia
FROM
Rahme Relationship Resources
PO BOX 5296 Chullora NSW 2190
Tel (02) 9742 5716; Fax (02) 9742 5715
info@rrr.com.au
..............................
Feel free to forward this invitation to others
............................