Presents
C.S.LEWIS - Beyond Narnia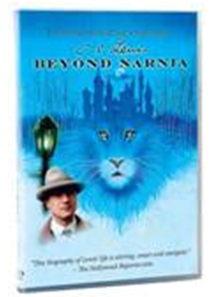 Readers and movie fans worldwide know the land of Narnia and the magical beings that dwell there. But few know the genius who created this beloved fantasy. Now meet C.S. Lewis, an extraordinary creative force, and arguably the most important Christian intellectual of the 20th century. His writings inevitably provoke deep thought and surprising revelations and have become trusted companions for millions of readers.
This engaging docu drama biography was filmed in Oxford, England, where C.S LEWIS lived, worked and imagined 'The Lion, The Witch and the Wardrobe', 'The Magician's Nephew' and the other tales that make up the beloved 'Chronicles of Narnia'.
As seen on the Hallmark Channel, this 54 mins beautifully produced biopic takes a close look at one of the greatest writers of all times and the creation of a place called Narnia.
This in-depth program delves into the life of legendary author C.S. Lewis. The writer of the beloved seven-book series THE CHRONICLES OF NARNIA, Lewis had an active imagination, a deep understanding of children, and a great wealth of personal experience.
Where - Inner West Baptist Church
Corner Hornsey & Exeter Rds HOMEBUSH WEST
Host

-

Pastor Peter Rahme
When

- Friday Jan 28 , 7 PM

for

7.15 start
Free Admission...Limited Seats...Booking Essential...
Short Gospel appeal followed by a delicious Supper ...

For more information/ interviews/public screening enquiries
Please contact Pastor Peter Rahme on 0418 249 989
REVELATION CINEMA
Hosting Advanced Private Screenings and national premieres of New Christian Films
Helping Local churches & Christian Organisations with Gospel outreach
Having the latest Christian DVDs available in stock & for sale

Feel free to forward this invitation to others
---
No virus found in this message.
Checked by AVG - www.avg.com
Version: 10.0.1170 / Virus Database: 1435/3369 - Release Date: 01/09/11